High Adventure History hits the stands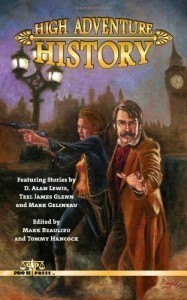 The latest story is 'To Catch a Copperhead' in Pro Se Press' High Adventure History anthology. The story was originally released as a 'SingleShot' story by Pro Se but now is in the collection it was written for.
Here is what Pro Se has to say about the book:
Pulp Happens…Throughout History! Pro Se Productions, a publisher of Genre Fiction, proudly presents HIGH ADVENTURE HISTORY, an anthology that puts the fast pacing and over the top action of Pulp Fiction in the History books! Setting tales in the past and telling them with a predominantly Pulp flavor, these stories find action and adventure in the annals of yesterday for readers today! Take a trip to the past with authors D. Alan Lewis, Teel James Glenn, and Mark Gelineau as they redefine High Adventure and History! Action, Adventure, Espionage, Mystery, and Horror abound in tales of days gone by in this thrilling collection. With a stunning cover by David L. Russell, design and formatting by Jeff Hayes, David Foster, and Russ Anderson, this volume will definitely prove to be historic. Relive the Past with Extra Pulp in Pro Se Production's HIGH ADVENTURE HISTORY.
My story features a young woman named Jessica but is better known as 'Assassin Anne'.  She is guardian and protector of the working girls in an 1860's era New York. She may be showing up in a future Hawke Girls' Adventure.
I hope you enjoy it.