Capes & Clockwork 2 Author Interview: Jeremy Hicks.
As a way of celebrating the release of Capes & Clockwork: Superheroes in the Age of Steam, Volume 2, I'm interviewing some of the contributing authors.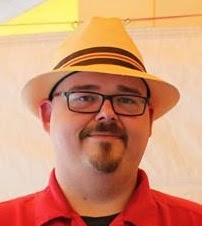 Today, we talk with Jeremy Hicks.
Tell us about yourself and how you got started writing.
Born and raised in the country, books became a refuge from boredom early on in life. Writing followed soon after, and thanks to people like my Uncle Danny, I had a lot of encouragement. He used to pay me a quarter per page for short stories, which is the best money I've made writing professionally. My first publication came in 5th grade when a short story I'd written about a mummy and an archaeologist appeared in my school newspaper. In high school, I worked on the school newspaper and yearbook and submitted stories to our literary magazine. After high school, college dominated my life, so I didn't write for pleasure for a number of years. Finally, as an archaeologist bouncing around on the road, I found myself writing cooperative Star Trek fanfiction with a number of people in our fleet. Fanfiction helped me sharpen my dialogue and learn to work with co-writers from around the globe, from active collaboration to back-end editing.
My career as a professional writer evolved from there. In 2008, when my job evaporated and our industry—heavily tied to infrastructure—collapsed, I talked my friend Barry Hayes into pairing his imagination with my own to produce faraway Faltyr and the Cycle of Ages Saga. We started a production company, wrote a few screenplays, shopped them unsuccessfully due to their budget requirements, and then tried to build a fan base for our property. The biggest blow happened when our attempt to have our franchise licensed as an official Dungeons & Dragons product failed because of our representation at the time. But we persevered. As a result, we wrote our first novel, the Cycle of Ages Saga: Finders Keepers, and Dark Oak Press published it in 2013. Since then, we've published a sequel novel, and I've had a number of short stories published in anthologies or through KDP.
What genres do you prefer writing and why?
Professionally, I've written fantasy, horror, and steampunk. My space opera and science fiction tales have been limited to fanfiction for now, but I have a Star Trek novel I'd really like to pitch. Regardless of what I'm writing, I feel like I'm drawn to darker, horrific storylines with good imagery and lots of action. However, I find that my dark, twisted sense of humor works its way into whatever I write, but I doubt most people will ever find all of my weird Easter eggs, paraphrases of writers and works that have influenced us, and private jokes shared among geeks, nerds, or even my friends and family. Like musicians and artists, I tend to imbed my influences within my work works.
What drew you to Capes & Clockwork?
I owe my involvement in Capes & Clockwork to one man, our tireless editor and friend, Alan Lewis. He has worked his ass off making sure that these two anthologies made it to publication despite all of the odds. Few people outside of the industry realize the challenges to publishing a single story, much less pulling together a pool of creative talent to submit enough stories appropriate for a themed anthology. It's been said that herding writers is much like herding cats. Having arranged several dinners for us at conventions and literary events, I believe that to be true. Alan has displayed patience and determination in realizing these anthologies and helped me to grow as a writer in the process. Thanks to him, my catalog contains steampunk stories now. Without him, I may never have taken the plunge into this genre, or injected that element into our fantasy world of Faltyr. For those who have not read my story in the first Capes & Clockwork, it's called "Deep Diving Death Defying Dwarves of the Deep." I crafted that story after Alan asked me to submit a story for the first anthology. It really revolutionized my ideas for how to handle our world's Underworld and Hollow World aspects.
Give us a quick blurb about your story?
My story for Capes & Clockwork 2 is my first "proper" steampunk story, although it contains a fair bit of Teslapunk elements too. It's called "The Fluff and the Fury", and it's a simple story about love, loyalty, and the lengths we go to for those we hold close to our heart. My tale takes place in the early 20th century, in the uncertain years before the U.S. is pulled into World War I. When unsavory agents want to lay hands on advanced technologies being squandered on a travelling circus, but they underestimate the determination of one of its smallest performers.
Tell us about your hero and what drives them to be a good guy or gal?
I wrote this story as a tribute, to enshrine some of those I love in fiction, so the hero of my story is Ginger, a smart, savvy circus poodle based on our family dog. She is owned by Madame Technique, co-owner and operator of the Carnivale Fantastique, a woman who rescued her and trained her to participate in the extravaganza. The Madame and her primary technical assistant are based loosely on my parents too, though Dad is the mechanical whiz in the family. Mom, like Ginger, is the little spitfire, though. She engenders such love and loyalty from Ginger that the poodle does not hesitate to do whatever it can for her Madame, whether it involves suffering lightning bolts arcing over its fluffy head or hounding those who seek to ruin and steal from her.
Were there challenges for you in writing a cross-over genre (steampunk and superhero)?
Enough that I cheated last time and used the closest thing to a superhero on Faltyr, the elven war-mage Yax'Kaqix (Blue Macaw) as a point-of-view character. I figured the story would have more impact if someone as badass as him recognized the courage and sacrifice of the dwarven submariners. For this story, I relied on a lot of research, mainly reading about canine senses, perception, and cognition. For inspiration, I drew primarily on the eccentric behaviors of our tiny dog. But I did rely on every canine hero and ally from fiction, from Benji and Lassie to Scooby-Doo and Krypto, too. Ultimately, I ignored the four-color comic aspect and embraced a more heartfelt, intimate hero whose primary strengths include keen senses and intellect, bravery, unconditional love, and unshakeable loyalty.
Who do you prefer writing? The heroes or the villains.
For this story, it was all about the hero. Writing it became an emotional rollercoaster for me, so I hope that effect comes across in the story itself. In my other stories, though, I prefer darker, more flawed characters, whether they are anti-heroes, scoundrels, rogues, or outright villains. It is even more fun to write those character types once you realize most of those baddies or selfish types do not realize those truths about themselves. They tend to be the heroes of their own stories. I find it makes for complicated characters which I feel is much more realistic.
Check out Jeremy's story, The Fluff and the Fury in Capes & Clockwork, Vol. 2
And his story, Deep Diving Death Defying Dwarves of the Deep in the original Capes & Clockwork.