This holiday season, I've decided to promote some of my writer friends and ask some of the questions that folks ask me. Today's guest/victim is:
John G. Hartness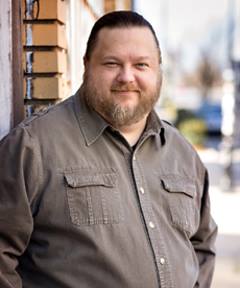 First, a little something about John.
John G. Hartness is a teller of tales, a righter of wrong, defender of ladies' virtues, and some people call him Maurice, for he speaks of the pompatus of love. He is also the best-selling author of EPIC-Award-winning series The Black Knight Chroniclesfrom Bell Bridge Books, a comedic urban fantasy series that answers the eternal question "Why aren't there more fat vampires?" He is also the creator of the comic horror Bubba the Monster Hunter series, and the creator and co-editor of the Big Bad series of horror anthologies from Dark Oak Press and Media. 2015 has seen John launch a new dark fantasy series featuring Quncy Harker, Demon Hunter.
In his copious free time John enjoys long walks on the beach, rescuing kittens from trees and recording new episodes of his ridiculous podcast Literate Liquors, where he pairs book reviews and alcoholic drinks in new and ludicrous ways. John is also a contributor to the Magical Words group blog. An avid Magic: the Gathering player, John is strong in his nerd-fu and has sometimes been referred to as "the Kevin Smith of Charlotte, NC." And not just for his girth.
At what age did you start writing or know that you wanted to write?
I've wanted to be a writer ever since I was very young, and started writing creatively around age eight. My first published work was a poem for my 3rd grade English class called "Kool Kitty" that I wrote about Garfield. My teacher ran it in the school paper, and that probably sealed my fate right there.
Where do your ideas come from?
Almost everything I've written comes from "What If" questions about something I see, read, or experience. The Black Knight Chronicles happened when I read Laurel K. Hamilton's Anita Blake series and wondered "What if there were fat or nerdy vampires?" Harker came from hearing that Constantine was going to network TV and wondering "What if somebody wrote Hellblazer right again, like Garth Ennis did in the '90s?" So most of my ideas come from seeing something in the big world and turning is 20 degrees off center.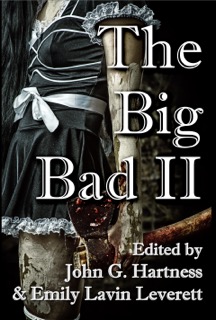 Do you base your characters on people you know or know of? Family or celebrities?
Not really. There may be one characteristic they share, or a physical look that they share, but the root of the character is mine.
Do you plot out your stories or just make it up as you go?
I outline religiously, even my short stories. I can't get through even a 10,000-word short without a road map.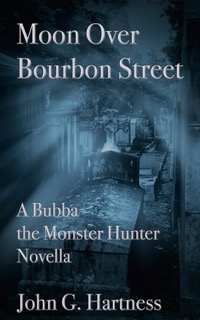 Do you listen to music while you write and if so, what do you listen too?
What I listen to depends on what I'm writing. If I need to focus, it's probably instrumental. Lindsey Stirling is my current favorite for that. I've written entire novels to Jason Isbell, Turnpike Troubadours, and The Avett Brothers. I dig the new outlaw country stuff, not the big hat bro-country BS, although I'll listen to that in the car. I like Rob Zombie for fight scenes. More Human than Human gets my adrenaline pumping and I can spray some blood on the page.
Which of your characters would you most like to meet in person? Which character of another author would you want to meet?
I'd like to party with Bubba, but a fair number of people would say that partying with me is parting with Bubba, so that could end in tragedy (or hilarity). I'd like to hang with Silk, from David Edding's The Belgariad. Or Jimmy the Hand from Raymond Feist's Riftwar Saga.
Which of your stories/books/works do you consider the best?
Well, I was fortunate enough to win the EPIC award for Best Horror Novel for Paint it Black, but I think In the Still of the Knight (Black Knight #5) is even better. It's more honest.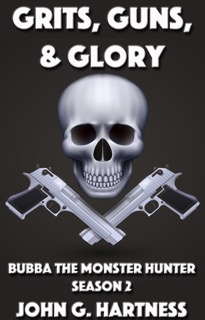 How much do you write each day/week?
On a good day, I get 2,500-4,000 words done. That's Monday-Friday. I usually don't write on weekends. My mileage varies depending on what else I have to work on. Like yesterday I spent half the day designing postcards, so I only got half a day's worth of writing done.
Can you tell about your experiences working with publishers? Any juicy or painful experiences?
I love my publishers, so all my stories are boring. But I will say that when the publisher asks to use one of your edited pages as an example of how detailed their editing process is, it means there's a LOT of blood on that page. J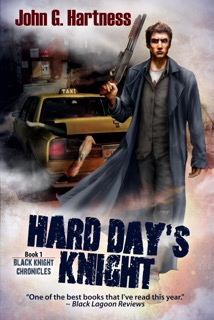 Do you have a routine when you write?
Not really. Since moving to doing this full-time, I sit down in the home office in the morning and hammer at it until I'm done.
What is your latest project/release?
I just released a brand new Bubba the Monster Hunter novella, Moon over Bourbon Street, this week. In it, Bubba and the gang travel to New Orleans for vacation but get dragged into local supernatural politics and have to save the city from itself.
Do you have any signings or appearances coming up?
I'll be at the Charlotte Comicon on December 6th, but that's it until Arisia in Boston in January.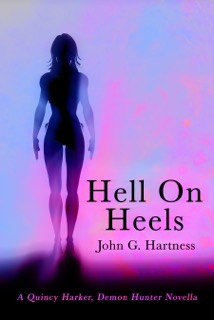 Favorite authors?
David Eddings, Pat Conroy, Neil Gaiman, Vince Flynn, Richard Kadrey, Jim Butcher, Seanan Mcguire
What book do you read over and over the most?
The Prince of Tides by Pat Conroy
Is there a book or book series that you recommend to people?
On Writing by Stephen King and The Belgariad by Eddings
Do you have a dream project that you want to write in the future?
Yes. There's a literary fiction novel brewing, but it's not ready to come out yet. It's a coming of age story.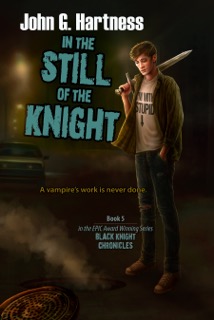 Do you have a special way of generating story ideas?
Nah, I just drink too much like everybody else.
How much of you is in your characters?
A fair chunk of my voice and snark, but that's mostly it. A lot of them reflect some aspect of myself that I'm trying to work on, but none of them are "me."
If you could live the life of one of your characters, who would it be?
NOBODY! Have you seen what happens to those guys? They have to fight monsters, and demons and shit! I don't want do that, it'd be terrifying.
What genre do you prefer to write?  To read?
I write urban fantasy/horror. I read urban fantasy, epic fantasy, southern gothic, southern lit, military fiction, all sorts of shit
Do you prefer writing short stories or novels?  And why?
I've recently found that my natural storytelling length seems to be about 30,000 words, so I'm really enjoying novellas right now.
What are you working on now?
I'm working on Man in Black (Black Knight #6), Hell Freezes Over (Harker #4) and the beginnings of other things.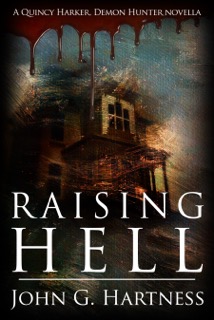 Is Writer's Block ever a problem for you?
If so, how do you deal with it. Writer's Block is bullshit, it doesn't exist. Depression happens, and real life interferes, and sometimes what you're writing is shit and your subconscious won't let you torture the universe with your turd-droppings anymore, but fucking take time to self-analyze, figure out what's causing your freeze, and fix it. But don't just fucking whine about writer's block. Pros don't get writer's block. Pros get the fucking work done.
What 3 things do you feel every aspiring writer should know?
1) This shit is hard. Really hard. Like, go do something else if it makes you happy, hard. But if this is what you're put here to do, there's no more rewarding thing in the world. 2) Fuck convention – do your thing your way and make them take notice. Be the best and they have to deal with you no matter whether you're doing shit their way or not. 3) Own your mistakes and learn from them. Don't be an idiot and keep doing the same stupid shit again and again, realize what doesn't work and fix it.
How do you use social media in regards to your writing?
I pimp my shit and other people's shit pretty relentlessly on Twitter and Facebook. And people can sign up for my email newsletter at my Facebook page – facebook.com/johnghartness.
Do you read reviews of your books?  If so, have you ever engaged a reviewer over comments they've made?
Sometimes. The only time I've engaged was when a reviewer said I didn't know the geography of Charlotte, where my books are set and where I've lived since 1995. They said there was no cemetery at the corner of Monroe Rd. and Sharon Amity Blvd. I replied that since I drove past it every week on my way to my Monday night Magic the Gathering game, I figured I knew what I was talking about.
Thanks John.  To checkout his website, click below: