Pulpology is here, along with Black Wolfe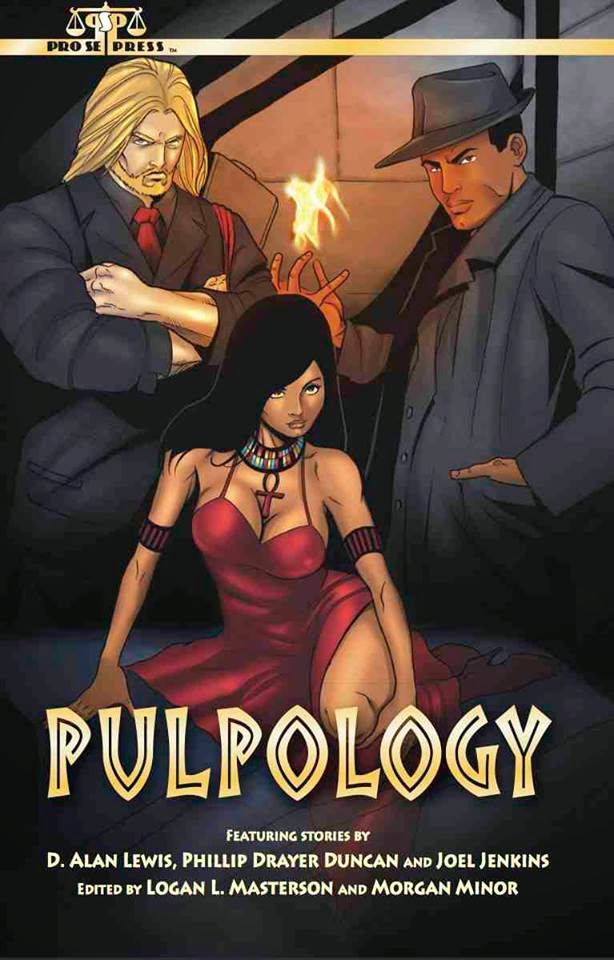 The latest Black Wolfe story is here! The Snake and the Black Wolfe is featured in Pulpology from Pro Se Press.
The concept behind Pulpology is taking a mythological creature or story and add 'Pulp' elements to it. Phillip Drayer Duncan, Joel Jenkins and myself were picked to contribute. My friend, Logan L. Masterson and Morgan Minor were tasked with the job of editing.
Dexter 'Black' Wolfe is back!
I first came up with the character, Dexter 'Black' Wolfe for a short story in Black Pulp. He was tough, smart and slightly super-powered. What drew me to creating him was the challenge of writing him. After all, I'm a white man living in the 21st century trying to capture the voice and struggle of a black man, living in a Depression Era 1930's.
Writing a character is easy. Making that character believable and capturing the ways that he deals with the world around him, is another thing. When the first Black Wolfe story was accepted, the publisher along with my beta readers, wanted more. I have to admit, nothing made me happier then seeing how well received Wolfe was by the readers. They wanted more, so I gave them more.
Dexter Wolfe's latest adventure matches him up with a monster/nightmare/titan from the Greek myths. They didn't call it Pulpology for nothing. But while many will recognize the myth, I put my own twist on it.
As for Dexter Wolfe, he has returned also in 'The Bishop of Port Victoria'. Here is a fun fact… BPV is written in several short stories that tell the life of a criminal king pin. Dexter Wolfe shows up in the third story, 'The Bishop and the Wolfe'. But in Wolfe's Universe, this story takes place the day after the story in 'Black Pulp'. So if you read 'Black Pulp' and the read BPV… it'll open your eyes a little more to Wolfe's background and story. 🙂
Read and enjoy… and let me know what you think.